In writing, you can break the rules — but only if it works
startribune.com – Saturday December 14, 2019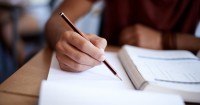 'Tis the season … so here's some unashamed regifting: a year-end roundup, featuring an all-star team whose members have appeared in these columns.
First, my Uncle Ollie, who sent me his copy of the New Yorker every week after he read it. If you let the quality of that magazine's writing and editing wash over you and if you follow its example, your writing will grow stronger.
Second, my mother, who taught me to read when I was 4, sounding out letters and words on a ketchup label. You can give your kids and grandkids the same gift.
Third, my sixth-grade English teacher, Miss Moore, who taught us to diagram a sentence, giving us a keen sense of the structure of language. Back to her later.
Fourth, my college English professor, John Finch, who taught us to create an outline before starting to write. The benefit: All your thinking goes into the outline; when you start to write, just follow the outline.
Fifth, the playwright August Wilson, who gave us this advice: "The simpler you say it, the more eloquent it is."
To read the full article on startribune.com, click here