I dread writing any kind of romantic scene – or, even worse, anything remotely sexy
irishtimes.com – Saturday May 1, 2021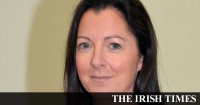 I literally dread having to write romantic scenes of any description. Of all the aspects of writing a book, for me, it is without a doubt the hardest thing I have to do. I'm not talking about the more extreme, bodice-ripping, "leave little to the imagination" type of scene – I could never even attempt that. I'm talking about a more pedestrian, everyday sort of romance.
But it doesn't matter, I still dread writing any kind of romantic scene and even worse, if there is anything remotely sexy going on it's absolutely mortifying!
As I sit and type, casting characters in some sort of embrace, or state of undress, I cringe inwardly as my fingers hit the keyboard, imagining people I know turning the pages and wondering if by any chance I'm describing myself or one of my previous misadventures. I will put off the inevitable for as long as physically possible, skipping over any romantic parts and leaving large gaps in the text, deferring the writing of those scenes until a later date, hoping that somehow, magically, I will be better able to rattle off those scenes without duress.
To read the full article on irishtimes.com, click here