How to write your first novel, according to experts
standard.co.uk – Friday July 20, 2018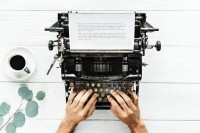 Everyone's got a novel inside them, right? According to Richard Skinner, director of the fiction programme at the highly-esteemed Faber Academy, and author of one of several new books offering advice to aspiring novelists, while this may be true, "very few manage to arrange themselves and their lives well enough to get it out".
Thank goodness for that, judging from the mountains of novels that do get written, mostly rather badly, which daily arrive at literary editors' offices by the sackload. If ever there was a good reason to keep it inside you forever, a week spent watching how ruthlessly we dispatch books like so much waste paper should do the trick.
But that's not the prevailing wisdom. Nowadays, even if mainstream publishers reject your manuscript, you can still be a novelist, thanks to the proliferation of self-publishing companies and creative writing courses, both booming businesses.
To read the full article on standard.co.uk, click here