How to start writing a novel – authors share how they did it
metro.co.uk – Thursday March 31, 2022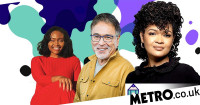 We've all got a novel in us. Or so the saying goes.
But for most people, even if you have the burning embers of an idea inside you – it can be hard to know where to start.
How do you find the time, the confidence, or the structure needed to actually put pen to paper, or fingers to keys, and actually start the process of writing your first novel.
Well – it can be done. Just look at all the books on your bookshelf or in your local bookshop. All of those authors were once beginners, and they all had to start somewhere.
To read the full article on metro.co.uk, click here