How to publish a book: Finding an agent
goodhousekeeping.com – Saturday March 14, 2020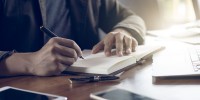 Publishing a book can feel like a minefield. There are so many ways to go about it - from the traditional agent and publisher route, to entering writing competitions to self publishing.
Before my first book, Five Steps To Happy came out last year, I was pretty much clueless as to the process. I took a 3 month novel writing course with Curtis Brown Creative, which offered a valuable insight into how the industry works.
A couple of years (and a lot of rejections) later, I signed with literary agent Richard Pike, at C&W, Curtis Brown's sister agency. My novel was bought by Trapeze, an imprint of Orion - and my dream came true.
Going through the process first-hand, I've gained a lot of useful knowledge. Burning questions about where an agent fits in with publishing a book? Read on!
To read the full article on goodhousekeeping.com, click here