How to decide when to 'rescue' your darlings and other writing tips
poynter.org – Saturday March 20, 2021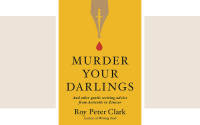 Although I have been unable to teach in-person writing workshops during the pandemic, my Zoom teachings have been zooming. Almost all of these virtual workshops have been pro-bono, but I have received rewards beyond money. A favorite activity is "visiting" a writing class, especially one that is using one of my writing books as a text. I have fun, play a little music, and get treated like Obama or Springsteen.
In other years, I would have walked across the street from the Poynter Institute to visit a class at the St. Petersburg campus of the University of South Florida. Instead, I taught this week, in my new mode, from a computer perched on our dining room table.
The day before the class, the teacher, veteran journalist Janet Keeler, submitted a list of questions from the students who had been studying my most recent book "Murder Your Darlings: And Other Gentle Writing Advice from Aristotle to Zinsser." In short, it's a writing book about writing books.
The questions were so good, I was inspired to sit down for an hour or so and answer them in writing. Those questions and answers, lightly edited for clarity, may be of use to you in your own work. I hope so.
To read the full article on poynter.org, click here