How to Write and Publish a Novel: 5 Crossroads You'll Face
geek.com – Sunday November 20, 2016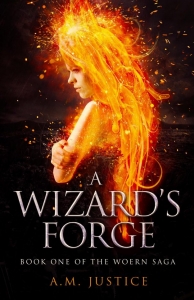 Guest writer A.M. Justice brings us her top tips in becoming a successfulpublisher author like her. Her recent work A Wizard's Forge has been getting fantastic reviews. Here's what the sci-fi/fantasy maven has to share with us on getting your writing out into the world.
It's 2 am. You've just wrapped up an RPG session, and you think, "that campaign would make an epic novel!" You invested hours into developing your characters' backstory, quirks, and flaws. Their goals are clear and so are their obstacles, and lots of antagonists lurk in the shadows, ready to pounce. This is going to be a killer story.
Swigging your favorite late-night beverage, you flip open the laptop and stare at a white screen and a blinking cursor. Now, what?
To read the full article on geek.com, click here