How to Write A Book – The Beginner's Guide
yourmoneygeek.com – Tuesday February 9, 2021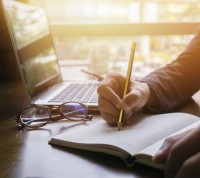 So, you want to write a book…
Well, if you're here, I'm pleased to report you've won half the battle. When it comes to writing a book, or even getting it published, bad advice is everywhere. The same is true for completing a manuscript.
Yet while understanding writing and craft is essential, it won't be the focus of this guide because, in truth, being able to write doesn't guarantee you can finish a book. Neither will binging on those YouTube videos about what Stephen King advises. I can't tell you how many talented writers I've known who can't seem to type The End on a project—alternatively, writers who type those two words too soon.
To truly begin and complete the book the right way, whether you have the goal of self-publishing or getting your work picked up by a traditional publisher (as I was with HarperCollins), you don't need any special writing software or expensive writing tools. No, follow these five simple steps, and you will be on the path of finishing your story.
To read the full article on yourmoneygeek.com, click here