How to Start Writing Fan Fiction
bookriot.com – Wednesday December 15, 2021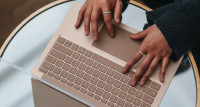 I began writing fan fiction in around 2008, when I was 11 years old. So, since I'm 24 now, that's more than half of my life ago! It was then that I loved Twilight and a few other fantasy novels so much that I was desperate to find more stories in that universe and Google searched for that exact thing. And to my surprise, there were tons of them on a magical but now outdated site called "Fan Fiction Dot Net."
Through middle and high school, I wrote fanfic for a ton of different fandoms but mainly The Avengers. Fan fiction not only helped me practice character development but also come to terms with my queer identity through pairings I enjoyed, especially since I grew up in a fairly conservative area where being queer wasn't something I could share without losing friends.
These days, I'm a reader of fanfic more so than a writer of it — in part because I have other writing projects that take up more of my time, and a day job, and non-writing hobbies that help me avoid burnout but also take up time, et cetera, et cetera. But I still enjoy reading it for stress relief and a reminder that writing can be purely for joy and personal fulfillment if you want it to be.
Fan fiction became my gateway to writing original stories. I'm adamant that it can play a positive role in practicing things like character development or even just finding a love of writing. These six tips will help you get started writing fan fiction if you're a beginner and get the most out of your project.
To read the full article on bookriot.com, click here