How to Query Your Sci-Fi/Fantasy Novel and Get Repped by a Literary Agent
theportalist.com – Friday April 7, 2023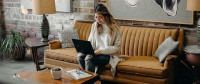 A literary agent can help you sell your book to a major publishing house. These tips can help you sell yourself to agents.
You've written a novel! First, take a moment and congratulate yourself for making it to the end. After you've edited, revised, and gotten critical feedback from critique partners and beta readers, you might be thinking: What's next? For anyone considering a career in traditional publishing, the next step is querying.
Querying is the process of finding an agent to represent you. To have your manuscript considered by any of the Big 5 publishing houses, you typically need a literary agent. The querying process typically requires three parts: a letter to the agent, a one- or two-page synopsis of the plot, and a short writing sample — typically the first five to 15 pages of your novel, depending on the agent. This guide will break down each of the three components of your query, plus resources you can use to identify the right contacts and attract the attention of a literary agent.
To read the full article on theportalist.com, click here