How To Write A Novel: Tips From Across The Literary Sphere
elle.com – Friday June 15, 2018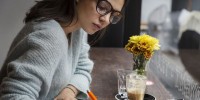 Who hasn't wistfully stared out of a train window, engrossed in a deep, perfectly soundtracked moment, and thought to themselves, "I think I've got a book in me"?
The trouble is, putting pen to paper is notoriously much harder than simply revelling in a cinematic moment during your daily commute.
Whether it's writer's block, a serious problem with procrastination, or not knowing what to do with your finished manuscript, ELLE invited some of publishing's most exciting names to discuss how to write the book in you, and then get it published.
To read the full article on elle.com, click here