Here are the 7 tools that will make you a better writer
fastcompany.com – Saturday June 18, 2022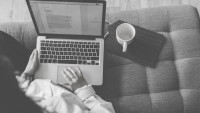 I spend a couple hours each day typing out emails, documents and journal entries. In this post I'm sharing some useful little writing aids I like, following up an earlier post spotlighting useful writing resources.
GET A NUDGE TO WRITE 750 WORDS A DAY WITH 750WORDS.COM
Writing requires motivation. If you like setting targets, you might appreciate 750 Words. The site encourages you to type out 750 words a day as often as you can. It tracks your daily and monthly progress, like a fitness tracker marking your walks or runs. Its tagline: "private, unfiltered, spontaneous, daily." You can copy and paste whatever you write here into an email, a Google Doc, a newsletter, blog or wherever else you want. To benefit from a cohort/peer pressure, you can join the monthly challenge for December to write 750 words per day. 750 Words is free to try — then costs $5 per month.
To read the full article on fastcompany.com, click here