Here's how busy poets and authors can create their own writing retreats
pe.com – Saturday May 4, 2019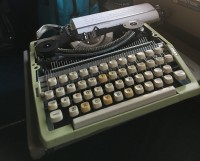 Attending a writing retreat is up there on the list of perfect vacations for me; idyllic location ripe for creativity, workshops, a secluded world of like-minded people, and stimulating literary conversation.
However, the cost can be steep, vacation time may not coincide with the scheduled retreat, and the amount of time at the retreat is usually limited from a few days to a week.
As a solution, I decided to create my own private retreat that requires no submission fees, and has only minimal program costs for itinerary, travel, food and lodging, and I didn't have to wait to see if I was accepted. I can align it with my vacation time and take a weekend here or there for a mini retreat.
There are four key elements I used to create my private writing retreat.
To read the full article on pe.com, click here