Good God, I can't publish this…
thecritic.co.uk – Monday June 20, 2022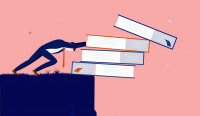 The literary rejection is almost a genre in itself. It has shaken the confidence of every writer in history. The best examples are to be found wherever there is a publisher armed with a power complex, a sense of literary inferiority and a ready wit. In recent years, the soft thud of the manuscript on the hall floor has been gradually replaced by the pernicious ping of the inbox. It does seem that the email is a paler version of the quintessential letter of the past.
Back in the 60s, Sylvia Plath boldly claimed, "I love my rejection slips. They show me I try". This was in spite of being told by a publisher that she didn't have "enough genuine talent for us to take notice".
Stephen King kept his rejection letters on a spike while Hemingway mutilated his — and no wonder. Mrs Moberley Luger of Peacock & Peacock (surely a parody of a publisher if ever there was one) sent Hemingway an intensely personal missive on the shortcomings of The Sun Also Rises: "I may be frank, Mr Hemingway — you certainly are in your prose — I found your efforts to be both tedious and offensive. You really are a man's man, aren't you? I wouldn't be surprised to hear that you had penned this entire story locked up at the club, ink in one hand, brandy in the other." She went on to berate his writing style with "I daresay my young son could do better!" and of the novel's hero she unleashed this zinger, "I doubt he'd have the energy to turn the page to find out what happened to himself".
To read the full article on thecritic.co.uk, click here