George Saunders on Overcoming Uncertainty in Writing
lithub.com – Sunday February 27, 2022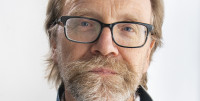 A few years ago, in my MFA writers' workshop at Syracuse University, we were critiquing a story by a truly wonderful writer, and it was a damned good story too. In it, a brother and a sister were living together because the brother, a former star athlete, had suffered a brain injury and wasn't able to live alone. The story was narrated by a man in love with the sister. In the scene in question, the man drives by on a steamy summer evening, sees the sister on the porch, joins her up there—and the sparks start to fly. It was one of the best depictions of strong mutual desire I've ever read. It was clear that the two were about to do it, right there on the porch. Although, the brother was asleep, just on the other side of a screen door.
So, the writer had made a lovely, consequence-rich moment. ("How can they have sex right there on the porch? How can they not? What if he wakes up? Oh God, that would be terrible. Yet it would also be cool. Talk about raising the stakes!") Then, at the critical moment, as the man reached for the woman—a teapot inside the house came to a boil.
The woman went inside, the sexual energy went poof, the man went home.
At the time, as I recall it, we critiqued this as an oversight on the writer's part—she hadn't told us there was a teapot on the stove. After workshop, the writer admitted that she wasn't entirely sure what she wanted to have happen in that scene—and a little light went on in my head.
That teapot wasn't an oversight, or a mistake, I realized, it was a placeholder—a kind of "To Be Determined" sign, the subconscious's way of saying, "I know this is important and I don't want to screw it up. Can I get back to you?" (Like one of those Magic Eight Balls, the story was saying, "Ask again later.")
To read the full article on lithub.com, click here