Five Things To Keep in Mind When Writing A Fantasy Series
winteriscoming.net – Wednesday November 13, 2019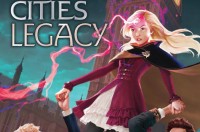 Writing a fantasy series can feel a lot like going on a really long road trip. No matter how prepared you think you are, you're probably still going to get lost a zillion times and realize that you didn't pack half the things you need. But none of that will matter because you'll have all kinds of adventures along the journey!
Or … your characters will at least.
As the author? You're mostly going to consume a lot of caffeine.
I'll be honest: I had no idea how to write a book when I first got the idea for Keeper of the Lost Cities. And I knew right away that the story would need to be told throughout the course of a series, so it felt extra daunting. I tried studying the craft of writing, but it was all a bit too abstract to be useful for me. What helped me so much more was devouring as many fantasy series as I could get my hands on—which brings me to the first thing to keep in mind if you're writing a fantasy series.
To read the full article on winteriscoming.net, click here