Festival of Words guests talk fantasy writing, defining genre during panel
moosejawtoday.com – Sunday July 18, 2021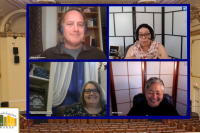 A selection of fantasy authors joined together to talk about how they approach writing a genre that includes anything the imagination can create, during the ongoing Saskatchewan Festival of Words.
The panel was pre-recorded, as part of a small series of sessions from the Festival of Words available for attendees to watch anytime.
Moderated by crime writer Wayne Arthurson — who said he was an avid fantasy reader excited to join the discussion — authors Melanie McFarlane, C.L. Polk and Hiromi Goto sat down to talk about the details of creating fantasy fiction.
To read the full article on moosejawtoday.com, click here