Don Winslow: The Complicated Ethics of Writing Violence in Fiction
time.com – Wednesday April 27, 2022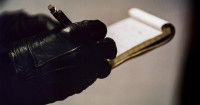 There are some hard ethical questions in the writing of crime fiction.
For me, the most difficult one is how to portray violence.
For one thing, should you depict it all?
And if so, how do you do it with some sense of morality?
I wrestle with this issue all the time. It's a fine line to walk. On the one hand I don't want to sanitize violence—I don't like presenting murder as a parlor game, or worse, a video game in which there are no real consequences. On the other hand, I don't want to cross that thin line into what might be called the pornography of violence, a means to merely titillate the worst angels of our nature.
To read the full article on time.com, click here