Don't fret, aspiring writers: You're more qualified than you think
pe.com – Monday December 17, 2018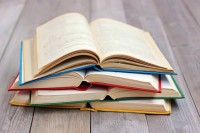 "How do I become a writer?" Authors hear it often. This question bubbles up in workshops and literary Q&A's. Ironically, the folks asking are often already writing poems, essays, screenplays, or novels but somehow doubt that the work is "real" yet, pending the verdict of some external authority.
When I'm asked, the boring answer I give (similar if not identical to an answer offered by most writers I have known and read) is to read a lot and write a lot, then repeat the process over and over. This un-glamorous response either disappoints or quietly thrills. I watch the expression of the person if we are talking face-to-face. She may give a curious nod, as if to humor me. Often there is an insistent followup: "Well, sure," one might go on, "but how do I publish my book/poetry collection/this article/this short story?"
Ah. That's a different question. Strategies for getting published shift constantly in the evolving field of publication. But one cannot publish at all without writing first. So back to the first premise we go.
To read the full article on pe.com, click here