Does it pay to be a top author?
rnz.co.nz – Sunday March 19, 2023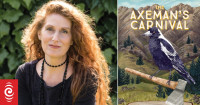 Does it pay to be a great novelist in New Zealand? The Detail talks to two authors about how they make a living spinning a good yarn.
Catherine Chidgey
Catherine Chidgey has been writing novels for almost 30 years - and she's one of our most celebrated writers on the scene at the moment.
Every morning, she's up at 6, writing. She does the school run, goes to her day job as a lecturer in creative writing at Waikato University, gets home, dinner, and then she's in bed - again, writing.
"It's insane," she laughs. "I don't recommend this schedule for anyone out there. Basically I have no other life."
She's just cracked the shortlist for the Jann Medlicott Acorn prize for fiction in this year's Ockham New Zealand Book Awards, for her 2022 novel The Axeman's Carnival.
It's a prestigious prize, too - carrying a $64,000 pay-out to the successful author.
But Chidgey's not in it for the money. She's in it for the passion.
To read the full article on rnz.co.nz, click here