Do writers need Twitter to be successful?
irishtimes.com – Tuesday January 18, 2022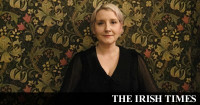 Twitter terrifies me. Somehow, I've equated my lack of popularity on this admired social media platform with my writing ability. Every tweet is posted with a racing pulse and a flood of underarm sweat. Often to be deleted moments later. But I'm told Twitter is the way forward for emerging writers.
On Twitter, everyone wins prizes and gets published. I leave every scrolling session more deflated than I started. Why does it invoke the worst in me? The jealousy, insecurity, the unhealthy comparisons with other writers. Do I need to put myself through this? I figured it was time to go back to my journalistic roots and attempt some nonfiction. It can't be any worse than my prose.
When I attended a John Hewitt workshop a few years ago, Twitter was hailed as an excellent resource for writers. I resisted for a while, but the fear of missing out made me cave in and sign up. Initially, scout's honour, I joined to source writing opportunities. However, when I won a few small competitions, I couldn't help posting news of my success. That was the Twitter way. But then I was filled with a strange sense of self-loathing.
To read the full article on irishtimes.com, click here