Clare Pooley on Writerly Perseverance and Knowing When To Give Up
lithub.com – Monday June 27, 2022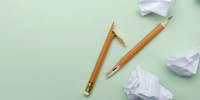 "You must never give up on writing itself. But sometimes you need to give up on what you're writing."
We're often told that the key to becoming a published author is perseverance. "A professional writer," according to Richard Bach, "is an amateur who didn't quit."
It takes a certain type of dogged determination—some might call it self-delusion—to get up before dawn for days, months, years on end and drag approximately 90,000 words out of your imagination onto a blank computer screen.
When I sat down to write my second novel, I thought that this time it would be easier. I knew I could do it—my debut, The Authenticity Project, had been a New York Times bestseller—and I already had fabulous publishers, in New York and London, waiting eagerly for the manuscript. No more wild flinging of submissions, with increasing desperation, into the farthest regions of the world wide web for me. Oh no.
The creative muse, it transpires, saves her most hysterical laughter for those of us who think it's going to be easy.
To read the full article on lithub.com, click here