Big Names in Little Magazines: On Thomas Pynchon's Very First Literary Journal Appearance
lithub.com – Thursday December 22, 2022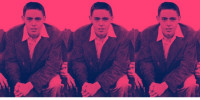 "Thomas Pynchon is a young writer, just twenty, who has previously published fiction in Epoch. He is a Cornell graduate and now lives in Seattle."
Writers know that the time between when a piece is accepted by a literary magazine and when it is actually published can be rather protracted—my longest span was three years—and by the time Thomas Pynchon appeared in the Spring 1960 issue of The Kenyon Review, he was a still-young 23. He'd just graduated from Cornell, his time there split by a stint in the Navy. He worked for Boeing in Seattle—writing for Bomarc Service News, an internal newsletter.
Although tasked with writing technical pieces about anti-aircraft missiles, Pynchon was characteristically wry. In "The Mad Hatter and the Mercury Wetted Relays," Pynchon informs readers that Lewis Carroll's Mad Hatter had gone mad from "chronic mercurialism" or "hatter's shakes," which could affect Boeing workers if certain wire-wrapped glass capsules explode. "When dealing with mercury," Pynchon warns, "even in small amounts, respect it and play it safe. Don't become a 'Mad Hatter,' you might find it to be much more unpleasant than attending a mad tea party."
The same jaunty rhythms mark "Entropy," Pynchon's story in The Kenyon Review. Although he would later dismiss the piece as an example of "overwriting," something "too conceptual, too cute and remote," the story is playfully chaotic—the type of glorious excess for which literary magazines are made.
To read the full article on lithub.com, click here