Asked to Delete References to Racism From Her Book, an Author Refused
nytimes.com – Monday May 8, 2023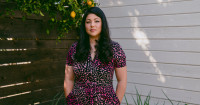 The case, involving Scholastic, led to an outcry among authors and became an example of how the culture wars behind a surge in book banning in schools has reached publishers.
It was the most personal story that Maggie Tokuda-Hall had ever written: the tale of how her grandparents met and fell in love at an incarceration camp in Idaho that held Japanese Americans during World War II.
The book, called "Love in the Library," is aimed at six- to nine-year-olds. Published last year by a small children's publisher, Candlewick Press, it drew glowing reviews, but sales were modest. So Tokuda-Hall was thrilled when Scholastic, a publishing giant that distributes books and resources in 90 percent of schools, said last month it wanted to license her book for use in classrooms.
When Tokuda-Hall read the details of the offer, she felt deflated — then outraged. Scholastic wanted her to delete references to racism in America from her author's note, in which she addresses readers directly. The decision was wrenching, Tokuda-Hall said, but she turned Scholastic down and went public, describing her predicament in a blog post and a Twitter post that drew more than five million views.
To read the full article on nytimes.com, click here