A deliciously cautionary tale about writing groups
ocregister.com – Tuesday June 16, 2020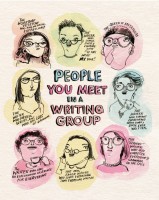 Ask any writer how it's going during quarantine, and they will respond, "Not much different than my regular life." That's how creativity works for writers. You hole yourself up in your house, plant your butt in your chair, stare at the computer screen, get up, pace the floors aimlessly trying to figure out the next scene, check the fridge for snacks, walk the dog 18 times a day waiting for ideas to come.
Or, if the writing is going well, you sit at your desk clattering away at the keyboard, telling your dog, "In a minute Mommy can take you for a walk. In a minute. Be a good dog." When the writing is going well, a blessed day is when no delivery person rings the doorbell, no meetings have to be showered and dressed for, and no friend is suggesting you meet for happy hour because they have to tell you about their day. Not all writers love quarantine, but almost all self-quarantine to get the work done.
Writing is work and requires a time commitment and showing up – all the things that any job requires, even meetings. Meetings with agents and editors and psychotherapists. But even before publication, there are writing group meetings.
To read the full article on ocregister.com, click here