A.R. Capetta's Top Ten Tips For Writing Speculative Short Stories
i0.wp.com – Sunday February 12, 2023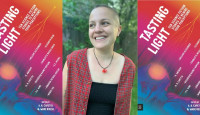 To celebrate the release of their sensational new YA sci-fi anthology, Tasting Light: Ten Science Fiction Stories to Rewire Your Perception, co-editor A.R. Capetta, shares their top ten tips for writing speculative short stories.
1. Write that first draft as quickly as you can get it down—without giving yourself time to judge it. If your story involves worldbuilding or even research, like many of the science and tech-inspired stories in Tasting Light, you can do that beforehand and layer in more afterward. But as you write a first draft try not to interrupt your brainwaves while they're chasing the single, brilliant beam of light that is your idea.
2. Speaking of light! A great speculative short story is like a beam of light that's gone through the facet of a prism. It is focused and transforming. As part of your writing process, read some of your favorite SFF stories. Look for the focus. Look for transformation—both in the story itself and in how it changes things for the reader.
To read the full article on i0.wp.com, click here