A Published Author Told Me To Stop Writing Fan Fiction — But The Lunar Chronicles Author Marissa Meyer Disagrees
bustle.com – Wednesday July 25, 2018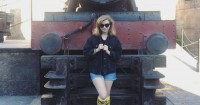 "If you ever wanted to be a published author, you need to stop writing fan fiction immediately."
I blinked, wondering how I'd gotten from standing in line for a snorkel at the beach to having my entire geeky world upended in one sentence. Several minutes earlier I'd struck up a conversation with the woman in front of me, who turned out to be a published author. It was January of 2016, so I was about 15,000 words deep into what would eventually become a monstrous, novel-length fan fiction sequel to The Force Awakens, and was so hopped up on having someone to talk writing with that I told her as much.
Cue the existential crisis.
To read the full article on bustle.com, click here