8 Steps to Follow When Writing an Early Death Scene
nofilmschool.com – Tuesday August 9, 2022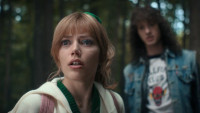 Do you want a supporting character's death to be impactful? Then follow these steps!
The fourth season of Netflix's Stranger Things introduced many new characters that we quickly learned to love or despise. While many side characters feel like archetypes rather than fully formed characters, one stands above the rest because of how impactful her story and death were.
Although Chrissy Cunningham's (Grace Van Dien) story is incredibly short, lasting only a single episode, her impact on the main characters and viewers was undeniable. In five scenes, the audience empathized with Chrissy's trauma and hardships and even swooned over her blossoming friendship with Eddie (Joseph Quinn), all to watch her die a horrific death.
How did the writers maximize Chrissy's story to get such a high emotional payoff with her death scene? Schnee breaks down what to focus on when writing an early death scene that has a lingering effect on the rest of the main story, and how you can approach an early death in your next project.
To read the full article on nofilmschool.com, click here