7 Quick (and Free) Ways to Find Inspiration and Be More Creative in 2019
inc.com – Monday December 31, 2018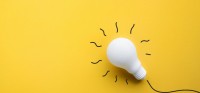 'Tis the season for setting fresh resolutions for the new year!
A few days of downtime over the holiday season gave me the space to think about my writing and publishing goals for the upcoming year. Lingering in the back of my mind, however, was the gnawing awareness that, to achieve my goals, I'll need to grapple with a powerful but invisible force working against me. It's a force Steve Pressfield gave a name to in his classic book on creativity, The War of Art: the "Resistance."
"Resistance" can come in many forms: It can be procrastination, fed by an array of distractions, like social media. It can be the heavy gravitational pull of the day job that pays my bills and allows me to support my family. Or, sometimes, "Resistance" is the feeling that the well of ideas and inspiration bubbling in my mind that I draw from when I need to write something has simply dried up.
I've written before about this topic, and have offered all forms of advice gleaned from the pros I've spoken to on my podcast about finding creative inspiration, developing better habits, and becoming a more productive writer. While I still recommend dipping into those strategies -- reading books on the craft of writing, experimenting with freewriting exercises, committing to a time and place to write every day -- there are a few other personal hacks I like to use whenever I need to summon my creative muse and -- to put it less poetically --pull my reluctant body back into a chair and place my hands on the keyboard again.
So here they are: Seven quirky, quick --and entirely free --ways to find inspiration and break out of a creative slump:
To read the full article on inc.com, click here