5 Tips For Young And Emerging Writers
wamu.org – Thursday January 3, 2019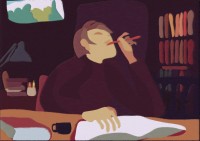 Writers: how often have you been told to "write what you know"?
Generic writing advice is so often repeated it's become a joke in the New Yorker. But do young or emerging writers feel boxed-in when they hear the same lessons over and over again that prioritize certain kinds of writing styles? Today on The Kojo Nnamdi Show, we'll explore what it takes to write fiction, and what resources the Washington region has for new writers. One of our guests, Zachary Clark, leads 826DC, a nonprofit chapter that provides writing support to young Washingtonians.
Check out Zachary's writing advice, and leave your own in the comments section!
To read the full article on wamu.org, click here