5 Pieces of Terrible Writing Advice You Should Totally Ignore
nofilmschool.com – Thursday November 16, 2023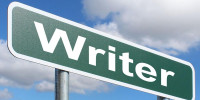 We've all heard some terrible writing advice in our lives. It might have been from so-called "experts," professors, or even in an unhelpful YouTube tutorial, but there are good writing lessons at the heart of every bad note. Let's look at a few together to see what you can glean.
Tell me if this rings a bell, you're attending a screenwriting seminar, listening to a lecture, or getting notes from someone, and they lean in and tell you they have a piece of advice. After hearing it, you shake your head. You feel a little worse off than you started, and you're not sure what to do next.
Terrible writing advice is all around us. Bad writing advice comes from many sources. We hear it in blogs, podcasts, and all over Social Media.
Today I want to go over the 5 biggest pieces of terrible screenwriting advice I've heard, debunk each of them, and give you the proper lessons to take away from each of them.
Ready? Let's go...
To read the full article on nofilmschool.com, click here