'Ridiculed and not taken seriously': why fan fiction deserves more credit
smh.com.au – Saturday July 20, 2019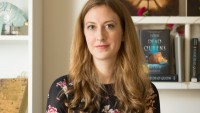 When Astrid Scholte was a teenager she was enthralled by the science fiction television series Farscape, a sweeping intergalactic space opera. She couldn't get enough.
The internet was a smaller universe in 2000, but online Scholte discovered a trove of fictional stories inspired by the characters and world of the show, written by other obsessed fans.
Soon, Scholte started studiously writing her own "episodes" to broaden the dimensions of her favourite television show.
"I didn't realise what I was doing was fan fiction. I did not realise there was a term distinctly defined back then," Scholte says.
These days, Scholte receives her own notes from fans after publishing her debut young adult fantasy novel Four Dead Queens in March.
To read the full article on smh.com.au, click here