'Normal People for married people': How to land a book deal for your first novel
irishtimes.com – Wednesday March 29, 2023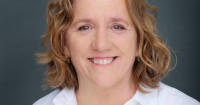 Lauren Mackenzie is just the latest writer to benefit from the Irish Writers Centre's Novel Fair, which helps pair new talent with literary agents
Kevin Barry once said he'd wager that "some of the most brilliant writers who ever lived have never been published". He was making a case for the importance of discipline over talent. (In his scenario, the brilliant writers hadn't managed to complete any work.) But what of those brilliant and disciplined writers who have gone undiscovered, their manuscripts sitting latent on a laptop?
Over its first 12 years the Irish Writers Centre Novel Fair has uncovered a great many such writers and manuscripts. The speed-dating-style pitching event, whose 2024 edition is launched today, seeks to bridge the gap between yet-to-be-discovered talent and industry professionals.
First, writers are chosen by a panel of judges, based on the opening 10,000 words of a manuscript. Next, these writers polish and submit their completed novel. After that comes a seminar, where the budding authors are briefed on the pitching process. Then comes the fair itself, at which they pitch their novel to agents and publishers in the hope of securing representation, a book deal or both.
Among the fair's past successes are Michelle Gallen (Big Girl, Small Town), Caitríona Lally (Eggshells), Kevin Curran (Beatsploitation), Olivia Fitzsimons (The Quiet Whispers Never Stop) and, recently, Lauren Mackenzie, whose debut novel, The Couples, will be published by John Murray in July.
To read the full article on irishtimes.com, click here